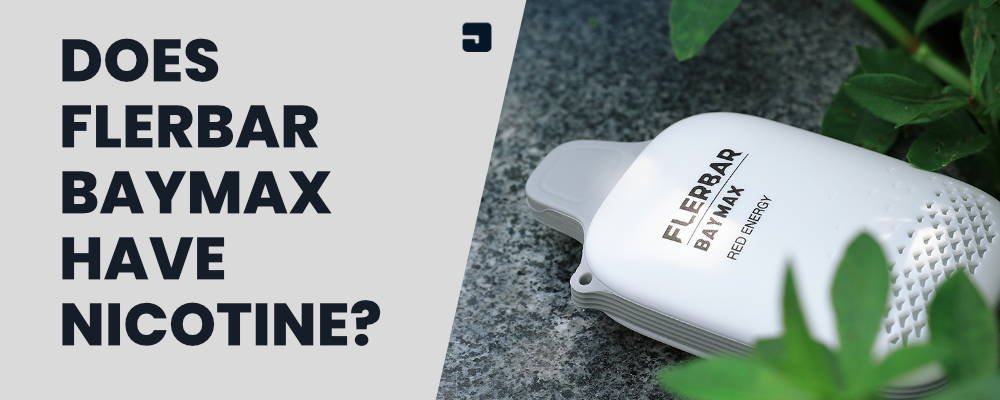 Ah, vaping – a topic that's been at the forefront of countless debates and conversations over the past decade. Just when you thought you had a grip on it, a new product emerges with its set of mysteries. Enter the Flerbar Baymax. Does it contain nicotine? Let's dive in.
Flerbar Baymax is a brilliant little disposable vape designed and created by Flerbar. It has been rising in popularity over the last few months due to some pretty impressive features.
The Flerbar Baymax vape is designed for simplicity and ease of use, with a sleek design, various flavours, and promising a premium vaping experience.
The Flerbar Baymax offers an impressive 3500 Puffs per device, which is extremely impressive due to the usual 600 puffs from other disposable vapes in the market.
You may think, hold on that's a little suspicous, how is that allowed. Don't worry, the Flerbar Baymax is totally legal in the UK.
Does Flerbar Baymax Have Nicotine?
The very short answer to this question is No, Flerbar Baymax does not contain nicotine. This is why they are able to pack a whopping 3500 puffs into the device without breaking any regulations. However, like most things it isn't quite that simple.
You may be thinking, what is the point in a nicotine free vape? Well the answer is quite simple, they are great for people who are quitting smoking and trying to combat a nicotine addiction. That's where the Flerbar Baymax steps in as they do things a little differently.
While a Flerbar Baymax does not contain any nicotine, helping to combat addiction, it still provides the same sensation and throat hit as vaping a normal nicotine containing vape. Fruther helping to aleviate those cravings of a good, strong throat hit.
Do Flerbar Baymax Feel Like a Vape?
As mentioned above, the Flerbar Baymax does not contain nicotine, however uses incredible technology and design around it's vape juice to provde a vaping sensation when you take a drag.
This means yes, a Flerbar Baymax vape feels like any other vape when breathing in without providing the addictive nicotine. Of course, the flavours and smoothness of the vapour beats most other vapes on the market.
Other Flerbar Baymax FAQs